Math & science (& everything STEM) these days has quite the plucky confidence; that cocksure strutting accompanied with the dung eating grin that all the ladies like. One of the many things I was repeatedly told as a kid was that numbers go on forever… numbers stretch into INFINITY. 
This was a big idea as a kid and we just swallowed it… We simply accepted that any man-made creation that had some system to account for endless propagation could stretch into forever, and that we should recognize that as some great strength of mathematics & the physical sciences. It literally is prepared for the circumstance of infinity.
But this raises the question… Can it be said that something stretched into infinity if it actually hasn't stretched into infinity?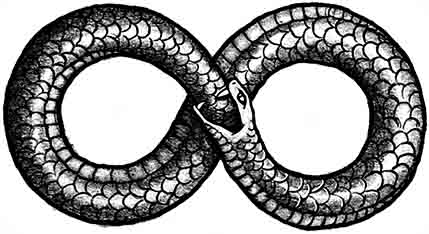 If I were to tell you that I have a theory of human history as infinitely cyclical, and that it repeats itself over and over again, without end; that our history stretches into eternity with a sense of constant repetition… Now let's just ignore whether or not history does repeat itself, but let's just focus on the idea.. Could I get away with tell you that history will stretch into eternity?
It would immediately ask the question of whether or not humanity will actually live forever. Something that many of us are skeptical of. We'd dismiss it as some overly cocky gesture of a historian.
What if a fantasy or science fiction novelist told you that his fantasy realm stretched into infinity. No, not just the idea of infinity, but that it actually goes on forever. We'd all probably point out that he cannot, nor could people taking over after him, hope to extend something into the eternal…
But I recognize that, he says, I am only saying that the world itself is infinite. And therefore the number of characters within this place is infinite and stretches into eternity. We might never cover their stories, we might never imagine what they actually are… But these here characters in this here world stretch on into infinity!
I don't know about you, but I would roll my eyes and say, yes, we get it… Your fantastical world is "eternal," and the characters are "infinite." I'd then try to steer the topic to something far more practical and relevant.
But this is exactly what mathematics and the physical sciences are insisting… Their system stretches on forever because they say it does. Just like the author, or the historian, who have only covered a finite number of details that are merely asserting that something is eternal, so, too, Mathematics is asserting numbers are eternal without actually reaching eternity.
Is there anything stopping numbers from reaching eternity? You could bring that up… Theoretically, they are eternal. Just like this fake writer's fake world; just like this historian's hypothesis of human history will stretch into eternity forever repeating itself.
But we would fault the historian and the writer by saying that he cannot extend his fake world or his historical theory into eternity because he is mortal and, moreover, the human race which would continue on his work for him is likewise mortal.
The same can be said to the mathematician calling numbers something that stretches into 'eternity.'
You can sit there with your finger on the '9′ key , holding it down, and have all your friends holding down the '9′ key for tens of thousands of years… But you will die someday. And whatever number you create or give some name to is not going to have stretched into infinity. It will still be measurable.
Likewise, we could all try our best to stretch the author's fantastical world into infinity; we could all try our best to stretch our world into infinity and thereby stretch history into infinity… But this is all imagination. This is all drivel that we would write off quickly.
But for whatever reason no one is quick to scoff at the idea that numbers are infinite.
This merely illustrates the bias we have towards STEM: we regard their asinine assertions as entrely valid (!!!) because, well, sure.. They have a 'system' set up behind it.
We will question the idea of the historian or the author who suggests it is infinite… We will question the religious person who likewise puts forward such a theory of something stretching into infinity without proof or demonstration…
But we let mathematics (and other scientific concepts) go on scot-free simply because of a bias.
Sure, there are people that would accept on face value as well that the historical or fantastical world concepts are 'infinite,' but the number is much fewer compared to those who accept, without question, the idea that numbers stretch on forever.
Food for thought.